When I was a young evangelical Christian girl, 6 or 7, I'd spend hours writing out my wrongs on tiny bits of paper. If I'd done or even thought anything perceived as wrong or bad to anyone around me, I'd write it down. Every evening, I'd ask my mom or dad to sit down with me and go over each slight, absolving me of my sins in
the process
.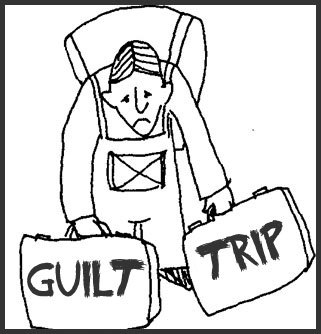 No one knew what to do with this seven year old little psycho in Back-to-the-Future land of 1986, so off to a Christian counselor we went. After about two months of sessions the counselor washed her hands of me. Later my mom told me that the counselor had told her I'd suffered no serious trauma, hadn't been abused, and was being raised in a good solid home (all things true). It was just my personality.
If you look back in my writing you can see how black and white some of my thoughts were and are. Some of that was my upbringing, some of that was OCD, surely, and some of that was DNA.
"Husband lost his job? How about you teach him some work ethic! I bet you didn't have a prayer chain for him on Facebook or at church! After all, you can give a man a fish, or you can teach him to get off his lazy butt and do it himself! Isn't that in Proverbs somewhere?"
It's probably not uncommon for women in their early thirties who grew up in a fairly strict Christian background in white middle America to feel this way about life.
Right is right, wrong is wrong. Homosexuality and abortion are the hot-button issues. If someone goes before the elders because he has sinned and the church and the elders and God forgive him, he can be back in communion with the Saints of the church, no matter what wrong he's committed or who it's affected.
I guess I grew up thinking that that's the way things were. There's a line in the sand. You stand on this side if you believe that you're a sinner and that Jesus died on the cross for your sins and you want Him to come into your heart and live there forever. By the way, can someone point out to me what specific verse the 'living in your heart' thing is? I've been looking for it and have come up empty. You stand on the other side if you don't believe it, and you usually end up feeling like the ones who DO believe it enjoy looking down their noses at you.
I believe all of those things, I do. I also believe that there are many gray areas in life that I don't understand, and a good friend told me that one of the secrets to happiness in life is to be able to say, with conviction, "I don't understand that, and I never will, but God is God and that's all I need to know."
The day I almost died, the day my newborn daughter's warmth still lingered in my arms and I was watching her little arms and legs waving around in the bassinet at the bottom of my bed
while some doctors frantically tried to save me
was also the day that I realized the thing I am most afraid of in dying is God's judgement.
I was not terrified of death. I was terrified of judgement.
That's so
wrong
.
I have a very sensitive heart. VERY. Having my writing out there,
having my family's experience out there
, has been something I've been wrestling with, praying about, and weighing back and forth in my mind. I've talked with several trusted friends about the ramifications, and at the end of the day, the decision was made.
I know my daughter and I know our family and we have struggled so long and so hard for her story not to be told.
Last week was another milestone, friends. It was the first time I bought a car without asking my parents' opinion first. I am 33. This is not a reflection on my parents but more a reflection on my lack of confidence in my own judgement.
Now, let's talk about you. Yes, you there behind your computer, stuffing your face with Cheetos and thinking about purging later on...
The funny thing is, I have a hard time with judgement, with feeling like you, as a reader, don't approve. I want you to like me.
You actually might think I am quite douchey.
Ouch.
I found this gem in my Facebook inbox from a dear college friend who is now a most prestigious art professor:
I always tell my art students that you aren't doing anything truly well until you start offending people. "Offending" people comes with being an artist. You can't control (or please) your critics. You'll soon learn whether it is worth reading or not after about 2 sentences. If it is not, then it is okay to NOT read them. In fact it is much healthier. Their issues are their issues and not yours. If you let your critics have a voice you jeopardize your ability to be authentic, work passionately, and create. My advice, ignore them, and really only listen to a very few people whose advice (both good or bad) you can trust.
I'm growing. I'm learning that earning others' approval (or being afraid of their judgement) is a far cry from the authenticity, the TRUTH in life I so desire for myself and ultimately for my children. I'm getting there, but in my own time. I am finally learning to trust my own voice.
I am done having babies, but I am not done raising them, teaching them, sending them to school without their snacks or trying unsuccessfully to remove their hardened earwax so they look as though they are, you know, actually being parented.
I am done being a newlywed, but I am not done pouring love into my husband; making mistakes along the way and asking for his forgiveness for a sharp word spoken out of grumpiness or bad pizza for dinner.
I am learning that as long as I draw breath I will never be done learning about God or experiencing the joy that comes with uncovered truth about Him; the diamonds in the rough I never would have found if I had continued to blindly follow.
I'm learning this, too: I can grow when I'm 33, or 73, or 103.
I just have to find the courage.
I'm finding it.